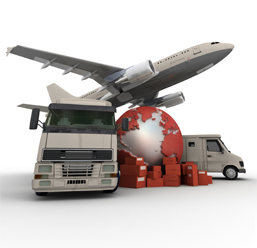 PROJECT DESCRIPTION
Freight Verification and Audit is an analytical, financial review of invoiced costs versus supplier agreements, resulting in 4-7% logistics savings. We help you to avoid overpayment, improve your company's transportation and logistics performance. A freight audit is an integral part of managing supply chain costs. Freight Audit invoice services are giving you confidence in the accuracy and value of your freight and logistics expenditure. It is a tool to register, purchase contracts of freight services and verification of freight invoices. The tool is equipped with a capability of recording various variable surcharges claimed by freight supplier and validating these under audit process. Capability of recording each element of freight invoice makes it possible for the tool to develop various logistics reports for process and cost optimization.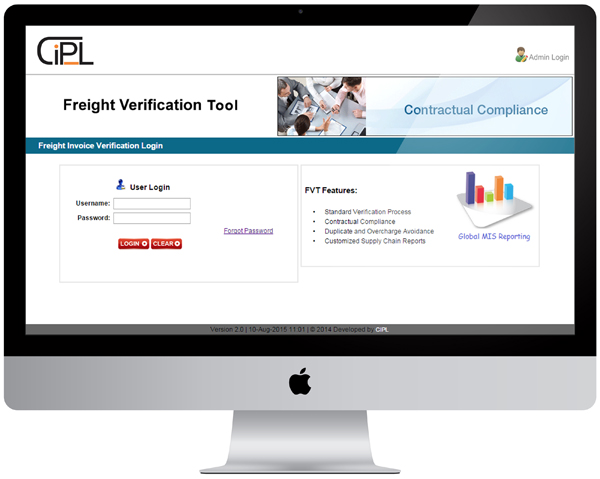 KEY FEATURES
Freight contract registration including domestics or international.
Mapping of countries and city on the basis of world zones.
Variable fee code recording and verification.
Takes input invoice from user mail box and upload automatically.
Can store hard copies of contract and invoices.
Multiple currency line per invoice recording possible.
Supplier rating on the basis of cost and delivery lead time.
Traceability of invoice till payment details finalized.
Can be integrated with the legacy ERP system.
Service tax calculation and reports.
Multi site, multi shipment mode, change in shipment priority and shipment
type capturing possible.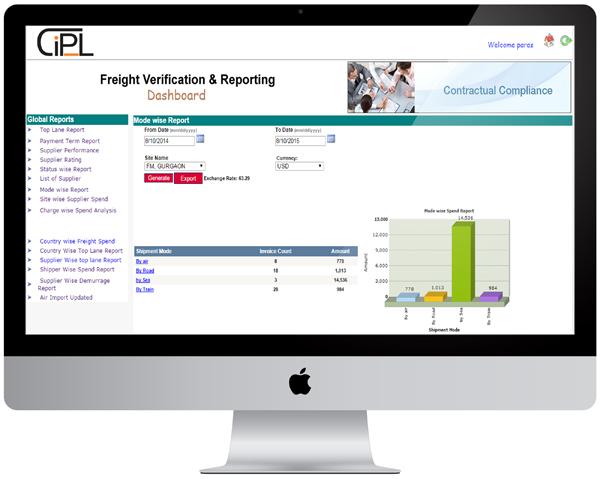 BENEFITS
Saving on freight cost by eliminating freight invoice error.
Saving on freight invoice processing time.
Real time logistics reports.
Value based approval process for deviation observed in freight invoices.
Electronic upload of freight invoice in system from excel sheet/mail box.
Auto acknowledgment of invoice receipt and alert to freight supplier.
MANUAL PROCESS - HARD COPY BUSINESS
Receipt of hard copy of finance payment section.
Verification of variable input such as fuel surcharge, security surcharge and FOREX rate using the internet site.
Verification of purchase contract input such as basic price, lead time, payment terms etc.
Verification of receipt of material at the destination site using a legacy system in the warehouse.
Payment approval on excel sheet for matching elements, deviation report generation and communication to supplier through mail.
OVERVIEW OF AUTOMATED FREIGHT INVOICE VERIFICATION
The tool is comprised of five different modules of the transaction. Each set of activities is having their reports and communication methods set to get variable inputs. Once master data is set and contracts are formulated, the tool is ready to receive an invoice in manual or E-Upload mode. Verification of invoice can be performed manually or auto mode using batch runs to deal with large counts of invoices at a time. Finance posting gives a logical end to supply chain activities and activates finance for their book posting again in manual or auto mode. A comprehensive audit module gives flexibility to validate post paid invoice verification.
The tool has the capability to recognize changed the invoice with audit trail and controls to get re certification for all such changed scenarios. Invoice appears automatically for re verification incase changed before finance posting. Different weight slab wise rate capturing and changes as per priority of shipment make tool capable of dealing standard and urgent (premium) shipments.
CONTRACT MANAGEMENTS
| Challenges | Solution | Result |
| --- | --- | --- |
| Freight contract is not registered in legacy ERP system and not available at any centralized location resulting accessibility issue. | Contract formulation in standard pattern using tool and available to all authorized users for use. | Contract accessibility to all authorized users. |
| Approval process not streamlined. Generally "contract amendment" doesn't reflect to all users and live in approving authority mail box or file. Mail sent or received are treated as acknowledgment and approval by suppliers creating confusion about change and it's effectiveness. | FVA provides a value based approval mechanism allowing users to do approval in the system itself. Any changes to contract form next revision number to distinguish between expired and active contracts. | Approval mechanism in place with history of approval and old contract. No more email business approval. Helps formulating work instructions for ISO and other procedural records. |
| Zone wise pricing for worlds and country region confuse user to determine adequacy of charged rates. | FVA provides the3 relationship of city/country code vs. zones as per supplier code wise. | Contract formulation of small parcel shipment and courier business becomes easy. |
VERIFICATION PROCESS
| Challenges | Solution | Result |
| --- | --- | --- |
| Freight invoice is not registered in legacy system for their elements such as basic freight, surcharges etc. | Freight invoices are recorded for all elements. | All micro detailing of freight invoices are stored in database to prepare and analysis freight expense at micro level. |
| Manual insertion of freight invoice in legacy system. | Electronic upload is possible from mail box or any excel sheet. | No manual intervention in invoice registration process. |
| Verification of invoice elements vs. contract element is manual and time consuming. | Verification is automatic through code and it can process few thousand invoices in few seconds. | Saving on time and chances of manual verification error is nil. |
DEVIATION APPROVAL AND FINANCE POSTING
| Challenges | Solution | Result |
| --- | --- | --- |
| Supply chain approvals beyond contract terms are not recorded electronically in the legacy system. All approvals are taken manually on either invoice copy or mails. Any future reference for such approval is time consuming and costly. | All approval mechanism is automated and value based. Any deviation given by supply chain is recorded for future reference. | Transparency in approval mechanism and time efficient process. |
| Communication of approved invoices to finance is manual. | Electronically transfer and acknowledgment for approved invoice to finance from supply Chain. | No manual register and signing system while handover from one department to another. |
| Traceability of freight invoice payment is not available. Any deduction or debit note details in regard to particular freight invoice is not available. | Payment details can be recorded with all deviation record. | All records of invoice payment, any deductions or deviation approval are one click away. |
AUDIT AND LOGISTICS REPORT
All variable charges such as fuel surcharges, security surcharges and foreign exchange rates are recorded and compared while audit run the program. Using a populated database from above transaction, all required reports to logistics manager is available to optimize business cost and process.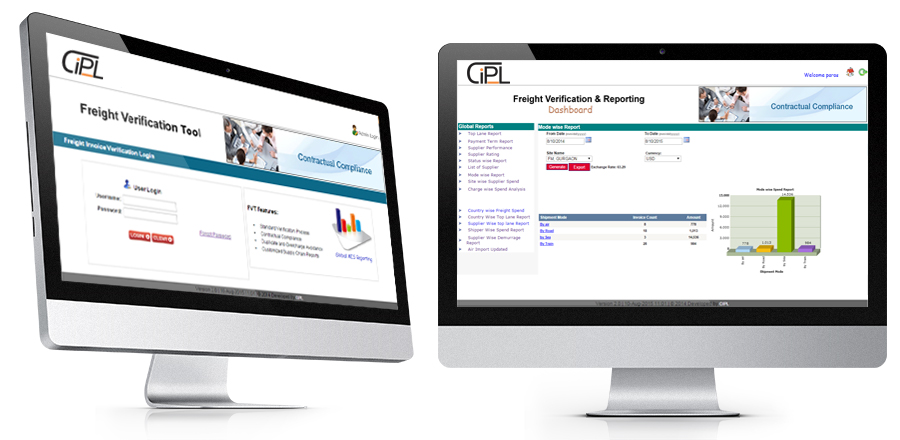 SUMMARY
This tool is beneficial to all those industries, who form a contract with their freight suppliers (in any form). Industries having high cost contribution by freight expense may get better saving advantage. The deployment process for this tool is simple and requires few 'Master Data' entries in the beginning. For integration with legacy system, support is available in CIPL.
CIPL sells this tool exclusively and with service part also. The service section includes:
Entry of freight invoice in system.
The complete process of verification and finance posting.
Audit the already paid invoice from history.
Interface development with legacy system such as SAP, BaaN, Oracle etc.
Audit of variable charges claimed by the supplier.